Let's face it, some financial advisors have extraordinary websites that create great first impressions and produce steady flows of high quality leads. Then there are the other advisors who have websites that have never produced a lead or contact since their inception.
These are two extremes that describe more than 90% of advisor websites. Which description best describes the performance of your website?
Use this quick guide to help you improve the performance of your website!
This article covers digital marketing for financial advisors tips such as:
Simplicity of financial advisor websites
What investors look for online
Website navigation
The role of free digital offers
Competitive edge of websites
Avoiding website clutter
Why are financial advisor websites more than simple online sales brochures?
Websites and brochures have one big feature in common: they are both delivery systems for information about financial advisors and the professionals who work there. There is basic information like What We Do and Who We Serve. Then, ideally, there are key features and benefits that differentiate advisors from each other.
A high percentage of firms struggle with differentiation.
Connections are a key difference between brochures and websites when investors use the Internet and the content on financial advisor websites to find, research, and contact the advisors who get past investors' initial screens. This opens the door for "inbound marketing" opportunities for financial advisors when investors initiate contact with professionals that they find online.
Bottom line: you are missing a major financial advisor marketing opportunity if your website and SEO (Search Engine Optimization) are not designed to produce leads and contacts.
What are investors looking for on financial advisor websites?

First impressions are critical when investors are surfing the web looking for financial services and financial planners. Names, logos, home page graphics, elevator pitches, and video create that impression.
One critical impression is making sure investors know they have come to the right websites. That is, the firm that owns the site delivers the services that investors are seeking – for example, financial planning and investment expertise and services.
Why are first impressions on financial advisor websites critical? Our surveys show a typical investor will spend nine seconds viewing home page information above the fold. What they see determines if they view other pages on the website.
A high home page bounce rate is an indicator that a financial advisors' branding and messaging are not doing the job. Learn how to reduce your homepage bounce rate here.
Assuming investors choose to spend more time on an advisor's website, the next most important information is who the advisor serves and what services are provided by the financial professional(s). Investors want to know if they work with clients like themselves and provide the services they are seeking. Again, planning and investment are the two most important services sought out by potential clients.
Why is navigation such an important function on financial advisor websites?
Navigation impacts the amount of time investors spend on financial advisor websites.
Intuitive navigation makes it fast and easy for investors to find the information they are seeking. Poorly designed navigation is a major problem because investors will exit websites before they will search for the information they are seeking.
The right navigation also makes it easy for investors to compare the information on several financial advisor websites. According to Google investors will visit six to eight financial advisor websites in their quest to find advisors they want to interview. But, they will only contact the three to four they like the best.
Intuitive navigation, that delivers the right information, will help advisors make the cut.
What is the role of free offers on financial advisor websites?
Free offers give investors additional reasons to contact financial advisors. This presumes the free offers are gated (require registration) and strong enough that investors will give up their anonymity to obtain the information. The best free offers are eBooks and videos that deal with investors' financial points.
For example, what is a major fear when investors are close to retirement? One concern is their fear of running out of money late in life. A popular eBook will address this issue and increase the financial advisor's credibility at the same time.
There are also ineffective free offers – for example, free plan reviews, free portfolio reviews, and free consultations. These offers require investors to provide sensitive financial information to advisors they don't know. In order to help grow your business, stick with eBooks and videos that do not require investors to disclose any sensitive information.
How can financial advisors make their websites more competitive with other advisors' websites?
Let's call the answer a two-edged sword… On the one hand, the information on financial advisor websites has to be competitive with other sites that are being visited by investors seeking advisors. On the other hand, advisors do not want to disclose information that would cause investors to exclude them from their search processes.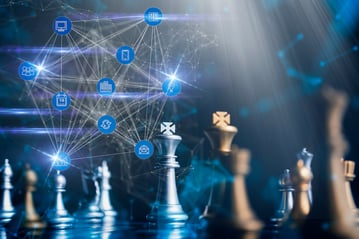 An illustration of this conundrum is the Our Team page that appears on a high percentage of financial advisor websites. What if there is no team? The financial advisor is a one professional firm, or, the firm has two or three professionals, but no real team.
How do these firms compete with bigger firms that have real teams of professionals? The most frequent solution is to rename the page Our Founder versus Our Team. Another frequent solution is to build a team of affiliated professionals (CPA, estate planning attorney, risk manager) and publish their bios on the Our Team page with proper disclosures.
How can financial advisors avoid clutter on their websites?
It all starts with a Google Analytics produced statistic called Time on Site. In our most recent survey, the average Time On Site for financial advisor websites was two minutes and 35 seconds. This is the amount of time advisors have to create a first impression and deliver the information that investors are seeking.
How much information can visitors read in two and a half minutes or watch if there are videos on the financial advisors' websites? This will also vary by visitor, but it is a few hundred words at the most. Many advisor websites have thousands of words on their websites that will never be read by investors.
Unfortunately, there is no way to predict what will attract the attention of a broad variety of investors. Different types of information will be important to different investors. So the information on your website has to be comprehensive without being excessive and hard to find.
Another form of website design clutter occurs when advisors add calculators to their websites with a goal of building their online credibility. But, this can also have negative consequences when visitors spend time using calculators and not spending time learning more about the advisors.
Solutions Await
As part of your digital marketing efforts, don't forget to incorporate a clear call to action for your visitors, to help guide them to the next step.
Never assume your reader knows what to do. It's your job to invite and tell them what they need. Connect with the team at Paladin Digital Marketing to discuss upleveling your digital marketing initiatives to get ahead of the competition—we are here to help you succeed.