Is Your Financial Advisor Website SEO Working?
Financial advisors looking to grow their client list and online presence are undoubtedly familiar with the term Search Engine Optimization and how it impacts online search success in multiple aspects of their financial advisor digital marketing plan. But even for advisors who see the importance of SEO, understanding how to define and measure if SEO is working can be challenging. Herein lies the key between gaining valuable leads to your website and getting passed over for the competition.
Read on for ways to determine if your financial advisor website SEO is working and, if not, how to fix it.
As digital marketing for financial advisors continues to expand and evolve, it's time to get a firm grasp on these vital areas.
SEO Measurement Tools
There are countless paid and free tools that can help measure a financial advisor's website's SEO efforts and determine if those efforts are working. Some examples include Google Analytics, Ahrefs, and SEMrush.
However, no matter which SEO measurement tools advisors are using, there are specific KPIs (key performance indicators) that they can use to determine the success of current SEO efforts. Those KPIs include:
Website Traffic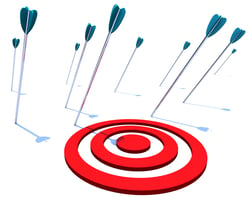 While traffic to a financial advisor website doesn't technically affect SEO, this is an important
metric to understand the overall health of website SEO. That's because the more traffic a website generates, the higher the Click Through Rate will likely be, which does play a role in search rankings.
Click-Through Rate
Also known as CTR, this KPI measures the number of times a page is clicked when displayed on a SERP (search engine results page). This plays a role in SEO because if a user clicks on your page over other similar results, that shows Google's search algorithms that your financial advisor website has relevant content that users want to see more of.
Bounce Rate
This measurement refers to the percentage of website visitors that leave a financial advisor's website after viewing just one page. In the eyes of Google, this indicates that a user did not immediately find what they were looking for, found the content to be lacking, or for some other reason, decided not to browse or take action.
Perhaps the page took too long to load, resulting in a poor user experience. These reasons are enough to hurt your financial advisor's website SEO because Google will not want to send users to a website that doesn't provide the information the user is looking for.
Time on Page
Along the same point as bounce rate, the time on page metric shows how long a user stayed on that particular page, but in the opposite direction of bounce rate, where users simply clicked, saw, and left the page. From an SEO perspective, it makes sense that Google wants to see a longer time on a page to reward a financial advisor's website with a higher position in search rankings. This demonstrates that users are finding the content they were looking for.
Conversion Rate
While the action needed to determine a "conversion" varies by industry and type of business, conversion is described as an action taken by a user that achieves the defined goal of that website or business. In retail terms, a conversion is often the sale of a product. This can mean anything from an email newsletter sign-up to a completed contact form requesting a meeting for financial advisors.
No matter what your financial advisor website considers a conversion, be sure to have it defined in your SEO measurement tool dashboard to ensure it's being properly tracked and measured. Seeing an increase in conversions is a great indicator of successful SEO efforts.
Ways to Improve Financial Advisor Website SEO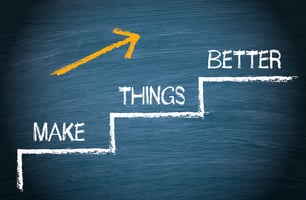 Once you've appropriately started measuring your financial advisor website SEO, you may find some (or all) areas that need improvement. If that's the case, or if you simply want to know more about how to implement SEO strategies, here are some ways to improve the KPIs listed above:
Analyze Keywords
Keywords are no longer the most critical part of a financial advisor's website SEO. However, they are indeed still important. The ways keywords are used have evolved with the methods users are searching, including voice search and semantic search.
To stay on top of the optimal keywords for your SEO efforts, you can use Google's Keyword Planner Tool or any other keyword tool that can help you improve your keywords and how they help your financial advisor's website search rankings.
Make Your Website Mobile-First
Due to the growing number of online searches being conducted on mobile devices, how financial advisor websites display on a mobile device is a determining factor for Google to determine which sites are shown. That's because Google doesn't want to send users to a website with a poor user experience on a mobile device.
Increase Load-Time Speed
There are not many things more frustrating for online searchers than a slow-loading website. This affects credibility with Google (which uses page load time as a metric for their Core Web Vitals) and will likely contribute to a higher bounce rate as users get impatient and leave. One quick way to improve this metric is to perform an audit of all media elements on the site, specifically images and videos, as they are often the culprit behind slow-loading pages.
Other factors affecting load time could include unnecessary HTML code running in the background or a large number of redirects.
Refresh and Update Content
In addition to the relevance and accuracy of financial advisor content, Google is looking for frequently updated content. While there may be information on your financial advisor website that's evergreen, Google will give that information more weight when it's been updated recently.
One quick way to achieve this is to refresh the content, add some commentary or images, and republish web pages frequently. This is what makes blogs so valuable. Have you taken it to the next level, yet?