Google+ Local, which used to be called Google Places, is a free online platform provided by Google for all types and sizes of businesses. Its two primary functions include helping businesses increase their online visibility and helping consumers find, connect, and engage with local businesses.
If you are a financial advisor or financial planner, you should have your own listing.
As the name implies, Google+ Local pages list businesses that provide services to consumers in their local area. When a consumer inputs keywords such as financial advisor, financial planner or investment manager, Google assumes the search has local intent so it displays three listings of local businesses who fit the keyword descriptions the consumers are searching for (see below).
In addition to the three listings, there is also a link that consumers can click on to view additional listings.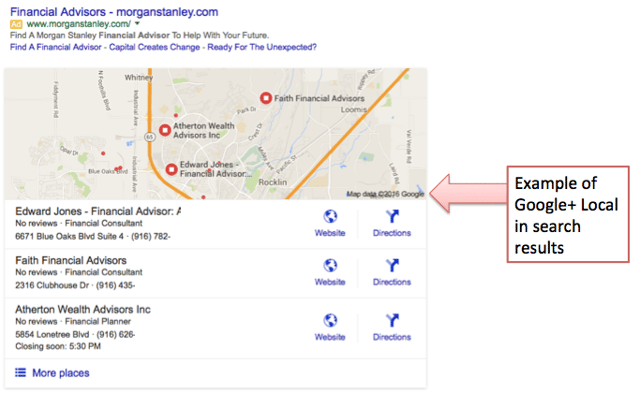 So what do you get with your listing?
Your business's name, address and phone number
A description of your business and the services you provide
Your location on Google Maps
Your operating hours
A link to your website
Photos and videos related to your practice
Reviews posted by your clients
A business or service rating of 0-5 (current or past clients)
There are several reasons why you should get your RIA listed:
It's a free service.
Google developed this service so it gives the listings Page 1 visibility for search results.
This visibility is extremely valuable. If you had to pay for this space, using geo-specific keywords for your market, you could pay up to $30 per click for advertising space on page one.
Google+ Local may be the most comprehensive and accessible business directory on the Internet.
It's not just a directory. It enables social interaction between users and financial service providers.
Investing a little bit of time and energy into your business page on Google+ Local can mean improved local search visibility.
You increase the odds of getting highly targeted visitors from Google's organic search results if you have a Google account.
Even if your website is not currently mobile friendly, your Google+ Local listing is. As the use of mobile devices increases, it's very important for consumers to be able to easily view information about you in a mobile-friendly environment.