As a financial advisor, it's important to earn the trust and respect of your clients. And while today's technology allows for business to be done between individuals across the globe, financial advisors are one of the remaining industries where location is extremely important. Your clients work hard for their money, and for some, the idea of having their nest egg managed somewhere across the country is not an option. This makes it essential to have a local online presence in the form of Search Engine Optimization (SEO). A form of inbound marketing, local SEO for financial advisors increases your visibility when investors use the Internet to conduct local searches for your services. Local SEO works in cities where you have physical or virtual offices with local addresses.
In other words, if a potential client is looking for a financial advisor in your town, city or metropolitan area, you want to ensure that you're included in their findings!
Studies show that 88.6% of investors prefer working with a local advisor. Learn how Local SEO for financial advisors can help you achieve better rankings so investors can easily find you on the Internet.
Here are 5 things that can be done to improve the local SEO for financial advisors:
1. Create/Update Local Listings
Many of the major directories offer free local listings, which means your website will appear in their local search results when consumers search for information. The major directories are Google, Facebook, Yahoo Local, Bing and Yelp, but there are many others. Appearing in the top five is a great place to start, but having listings in more directories can increase web traffic and leads exponentially.
You may find that you have a listing for your business that you didn't create, or there is incorrect information listed. If this is the case, you can go through steps to "claim" the business, proving that you're the owner. Once claimed, you can submit changes and updates to the information on your listing to further optimize. If available, take advantage of the ability to include photos and social links (Facebook, LinkedIn, Twitter). Professional marketing agencies are experts in managing directory listings. For example, the SEO inbound marketing service from Paladin uses about 75 major directories to increase your local visibility and website traffic. It would be extremely difficult to establish and manage that many directories effectively on your own.
2. Online Reviews Matter
What used to simply just be "word of mouth" between friends and businesses has evolved into the use of online reviews for businesses. These can be found within the directories mentioned above, such as Google, Facebook and Yelp. The importance of these reviews can't be overstated, since these are often the first impression someone receives of your business online when searching. Be sure to ask clients for reviews and respond to all of your reviews whether they are positive or negative. And while Google doesn't share its exact formula for search algorithms, there is speculation that reviews may play a part in local SEO rankings. If not, it certainly doesn't hurt to have positive feedback!
3. Optimize Your HTML
In its infancy, good SEO was based solely on keywords, meta descriptions and tags within the html code of the website itself. And while SEO has come a long way and now relies on a combination of this and other factors, it's still important to include the proper keywords for directory searches. For example, a meta description is the information that will display on the search results – basically a "preview" of what the searcher will see on your website.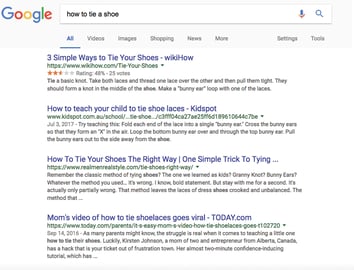 Keywords are specific descriptive words used both in the meta descriptions and throughout the website to enhance the chances that your website will come up when someone uses that word in a search. For example, if someone typed "Best Financial Advisor Atlanta," then an advisor in Atlanta who uses those keywords has a higher chance of showing up in search results than someone who doesn't. Knowing which keywords to include can be the real challenge, so staying up to date with the latest trends is essential. It's also a good practice to keep an eye on your local competitors. If you're not consistently showing up at the top of your local rankings, read over the websites of the pages coming in at the top and see if they have keywords your site is missing.
4. Have a Good Website
Before putting in all of the work to optimize your local SEO, be sure you have a good place to send visitors. If people are enticed enough to pick your business over others, your website shouldn't be a disappointment. That also means avoiding "keyword stuffing," adding keywords that aren't necessarily relevant to your business or website. In addition to being unethical, it is also frowned upon by Google and can get your page blacklisted so it doesn't show up in any local search results.
When arriving at your website, your "About Me" or bio page is essential. Include general information about yourself. A brief professional bio and a few personal hobbies/interests and family information is enough to show you are qualified, but also still just another person who they can relate to on a personal level. In addition to introducing the investor to who you are, the website has to explain your services and business principles. You should look for a company that can create custom websites that increase brand awareness, as well as lead generation websites that are optimized to maximize your Internet visibility and provide relevant content for your ideal types of clients. These types of websites can provide the types of lead generation that can be extremely time consuming when done "offline," such as through cold calling or mailers. Your leads can be coming to you with minimal effort on your part.
5. Partner Up
If optimizing your local SEO sounds like a time-consuming endeavor, you're correct. And while doing it yourself is an option, sometimes it's best to leave local SEO to the professionals. Most advisors find that their time is stretched pretty thin between maintaining client accounts and meeting with prospects, and that leaves little time for anything else. This is where a relationship with an established and experienced digital marketing partner can help expand your local presence. Utilizing a professional digital marketing department that provides all of the resources and services advisors need to develop, manage and operate a successful online marketing effort requires very little of your effort.