How to Optimize Your Financial Advisor Website for Google Searches
While there was a time when simply having a financial advisor website was considered a "nice to have" for some firms, there is no question that having a strong online presence is vital in today's digital-focused marketplace. Without being visible online, financial advisors miss the opportunity to reach an audience that is searching specifically for their services. And most of the time, those searches are happening on Google.
For financial advisors, the race to the top of Google's SERPs (Search Engine Results Pages) has tough competition, from competing local financial advisor firms to national firms with seemingly unlimited budgets. So how can your FA website contend?
The key is to optimize your financial advisor website specifically for Google searches.
This means to know what Google is looking for, and build/optimize your website with that in mind. More than basic Search Engine Optimization (SEO), there are specific qualities Google looks for to determine whom to send to the top of organic search pages. While they don't share the recipe to their search engine "secret sauce," they do offer insights into some of the main ingredients.
This article covers these seven vital SEO components that financial advisors need to be aware of and act on:
Google My Business
E-A-T (Expertise, Authoritativeness and Trustworthiness)
Google's Semantic Search
Google's Core Web Vitals
Google Screened
Google Reviews
Google Analytics
Google My Business
Using Google's own tools is a good way to get started, but using them correctly and to their fullest takes it a step further in the right direction. For local financial advisors, there's no better place to start than with Google My Business (GMB). This online directory was formerly known as Google Places, and in its most basic definition can be described as an online phone book, but that would be downplaying just how vital it is for local financial advisors to have a complete and accurate listing.
This means first claiming your listing as the owner in order to make edits and manage the listing, verifying that all of the contact information is complete and correct, and taking full advantage of the other profile options, including photos, reviews, videos, upcoming events, and more.
Pro tip: Remember that Google uses the whole of the internet to determine your financial advisor website's accuracy and online credibility. To ensure that Google doesn't find discrepancies, take stock of all the places your financial advisor firm is listed online and make sure the information listed matches your GMB listing.
E-A-T
In short, E-A-T (Expertise, Authoritativeness and Trustworthiness) is Google's way of determining your financial advisor website's quality. This takes online search to a new level, moving beyond keywords and phrases to determine where (and if) a website shows up in a given search. What makes E-A-T unique is the human component. While most other forms of SEO are determined by algorithms, web crawlers and AI, the driving force behind E-A-T is actual humans evaluating websites for these three elements:
Expertise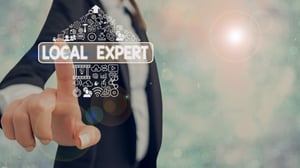 As with anyone in the financial services industry, financial advisors are expected to be experts in their field, as they are trusted with their clients' financial futures. Google's Search Quality Rankers — the people assessing E-A-T — are looking for awards, education, licenses, and other tangible credentials to determine that creator's level of expertise.
Authoritativeness
This also is based on the content creator, but focusing more on their online reputation, and how they are viewed by others online. For financial advisors, this could be anything from a presentation you gave, to a quote on another website, or even a backlink to your financial advisor website or guest post on another site's blog.
Trustworthiness
While it may sound difficult to measure, Google does its best to ascertain how trustworthy a website is. Some of these factors include a site's security, reputation of the hosting service used, length of time the website has been established, and online reviews to name a few.
Google's Semantic Search
Semantic search is Google's way of keeping up with the way users are searching in light of developments in technology and access to mobile devices. Google is considering the intent behind a user's search, rather than taking the search query literally based on the words typed in or spoken into the search bar. This shifts the SEO focus for financial advisor websites from solely keyword-based to now include longer search terms more fitting of how someone would speak a search term conversationally than type in a string of keywords.
Google's Core Web Vitals
While more technical than some of Google's other ranking factors, the main goal of Google's Core Web Vitals is to rank your financial advisor website based on the overall user experience someone has when visiting. This is measured by load time, ease of interaction, and how visually stable your website elements are. In short, Google wants your financial advisor website to be fast, easy to use, and visually appealing.
Google Screened
Financial advisors can gain credibility online by becoming what's known as "Google Screened" when showing up on Google's LSAs (Local Service Ads). This directory is Google's effort to match customers with the products or services they're looking for, while also vetting the websites that show up in the searches. For financial advisors, this vetting process includes background, licensing, and insurance checks to pass the screening.
Google Reviews
Google doesn't only rely on user-generated content to determine SERP rankings — it relies on user reviews as well. While these can be both detrimental and beneficial for any business depending on the quality and quantity of reviews, financial advisors can leverage user reviews to optimize on Google.
This can be achieved by asking clients and associates for reviews, monitoring what is said in those reviews, and responding (if it's warranted). While negative reviews can only be deleted by the author of the review, the more positive reviews come in, the less impact that review will make.
Google Analytics
Last but not least, using Google's free analytics platform is critical to understanding how Google is seeing your financial advisor website. This is because you can measure KPIs and see what's working (and what's not) in the eyes of Google.
Implement these useful tools to build SEO for financial advisors. Professional help is here at PDM!