How Financial Advisors Use Hub And Spoke Digital Marketing
It's no secret that having a solid financial advisor digital marketing strategy is necessary to grow and maintain your firm. And while there are many granular components to a successful financial advisor marketing strategy that have been covered in detail, it's easy to forget the big picture when it comes to attracting and retaining clients.
That's where the hub and spoke approach to digital marketing for financial advisors can help provide perspective and focus on the components that matter most—hint: it's content.
What is hub and spoke digital marketing for financial advisors?
Hub and spoke digital marketing is an analogy for a bicycle wheel. There's a hub in the center where the spokes connect and project out to the rim, which is on the outside holding everything together (so the bicycle can ride smoothly). Hub and spoke marketing isn't new; it's simply been adapted to the digital channels that are becoming the primary way to reach target audiences.
In digital marketing terms:
The hub is defined as your financial advisor website
The spokes are the channels that lead visitors to the hub
The rim is the content distributed via those channels
At the very heart of the hub and spoke model is content
Pre-internet, this marketing model was used to describe marketing via traditional channels such as print, digital mail, radio, and television. And while those channels still have a place in the marketing realm, they're no longer the optimal way to reach consumers, especially for financial advisors looking to reach the younger generations of investors.
How to create an effective financial advisor hub and spoke digital marketing strategy
Create (or Optimize) Your Hub
Since nearly every business or brand has a website, this is the time to take a deep dive into your site and make necessary improvements by optimizing your content. When looking at your financial advisor website as the ultimate destination for all of your digital marketing efforts (distributed via your "spokes") it's imperative that your site reflects the content shared via those channels.
As an example, if you shared a social media post about IRAs, but don't have any additional IRA-specific content on your website, that doesn't give the prospective client more of what they were looking for. This means there was a breakdown in the connection between the rim, spokes, and the hub, which does not make for a smooth ride.
Because hub and spoke digital marketing is a model built for distributing content, it's safe to say that the content shared across all of your spokes should be relevant, consistent, and accurate (at the very least). For financial advisors looking for even more engagement, there are more tips below for creating and distributing additional content.
Clearly define and optimize your spokes
While having many distribution channels can lead to more engagement which can bring more prospects to your hub, quality should be a higher priority than content. If there are too many channels to effectively manage all at once, this could affect the quality and frequency of the content and potentially do more harm than good for your financial advisor digital marketing strategy.
That doesn't even account for the wasted time spent on marketing that didn't pan out. Remember, the spokes are the channels that will ultimately lead the end user to your website. It's recommended for financial advisors to start with the three main "spokes" for content distribution:
Quality content brings it all together
It cannot be overstated how important content is in regard to any digital marketing strategy for financial advisors — especially hub and spoke digital marketing. As stated above, the content is the "rim" of the bicycle wheel; without it the bike won't go anywhere. That means without relevant and informative content, your financial advisor digital marketing will likely remain stagnant.
When creating content from the perspective of the hub and spoke model, it's necessary for financial advisors to craft messaging and content to specifically be distributed via the spokes and deliver end users to your financial advisor website.
Pro tip: content shared via the hub and spoke model is not limited to the basic blog posts, infographics, and links to your financial advisor website. While those are great, additional forms of content that can increase engagement include social media channels beyond Facebook and LinkedIn: Think TikTok, Instagram, YouTube, WhatsApp, and even Messenger platforms.
Sharing informational content on these social media platforms is a great way for financial advisors to reach a younger audience to engage future investors early on. And for financial advisors with an aging investor base, this is a crucial audience to reach.

What are hub and spoke marketing best practices?
When using a hub and spoke digital marketing model, it can be helpful to look at the process from the end result (a visitor to your financial advisor website) back to the initial action (the visitor seeing content via one of the spokes a.k.a. distribution channels). By looking at the end result first, this can help put the whole process in perspective and help guide your financial advisor digital marketing strategy.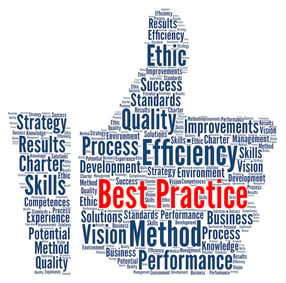 SEO (search engine optimization) can use a hub and spoke model as well.
This is important because there is no digital marketing without SEO—without it, your content won't have a chance to get in front of the right audience. When looking at SEO through the hub and spoke model:
The "hub" is the content or topic you want to rank higher for

The "spokes" are the content you use to support the main topic (i.e., hub)
The "rim" is the actual keywords used to support the "spokes" and "hub"
Just like on a bicycle, the wheel won't hold together without a rim. The same is true for digital marketing content. Without quality content, it all falls apart.
Take these five steps to find your ideal SEO agency and get on the right path to success—PDM looks forward to taking that ride with you!