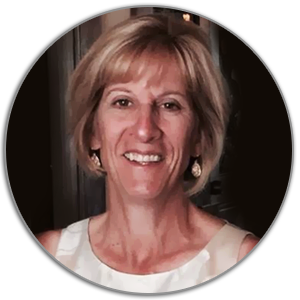 on May 31, 2017
Tags: Marketing
Our business has been providing lead generation services to financial advisor, financial planners, and independent RIAs for over 14 years. Our primary business, www.PaladinRegistry.com, connects investors with advisors who have gone through our vetting and documentation processes. About two years ago, Paladin started receiving a significant number of requests from advisors who wanted technical services that helped them develop digital marketing business plans that used the Internet to help them grow their businesses.
Due to the complex nature of the Internet and all of the touch points you need to monitor digital marketing efforts (social media, blog posts, email marketing, landing pages, calls-to-action, etc.), we knew we needed a digital marketing platform that turned advisor websites (online sales brochures) into lead generation websites. After three months of research and testing, we decided to become a Hubspot Agency for financial advisory firms.
What is Hubspot?
Hubspot's foundation is built around Inbound Marketing methodologies. Inbound Marketing allows firms to focus their financial advisor marketing efforts on attracting visitors through content and interactions that are helpful and relevant to their interests. Potential clients find you through sources like blogs, search engines, social media, and your website.
Using inbound marketing as the foundation, Hubspot has built an incredibly robust marketing automation platform that is designed to help you prioritize and execute your marketing tasks in a more efficient and streamlined manner. It simplifies your marketing efforts into one central data "hub" where you can track all of your marketing campaigns in one place.
"Marketing automation refers to the software that exists with the goal of automating marketing actions. Many marketing departments have to automate repetitive tasks such as emails, social media, and other website actions. The technology of marketing automation makes these tasks easier." Hubspot
Costs Before Hubspot:
Here are some of the marketing software tools that you would need to effectively monitor your marketing campaigns and the associated monthly costs for these tools/software. Note that this does not include labor for actually researching and creating the report.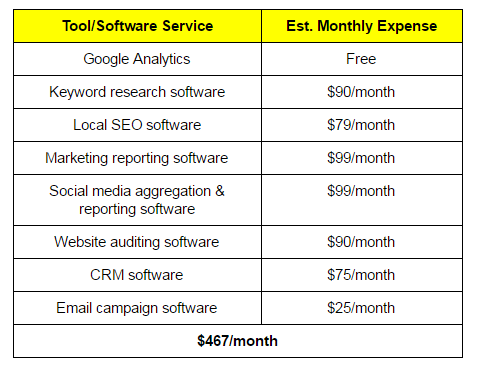 Costs After Hubspot:
Once Hubspot is implemented on your website, all of the above services become obsolete. You have one easy-to-use set of tools on one integrated platform. One login gets you access to everything you need to effectively manage your entire online marketing effort.
Hubspot has three service levels: Basic, Pro, and Enterprise with pricing ranging from $200 per month to $2400 per month. If you use the Basic version you save roughly $260 a month on various subscription fees to effectively monitor your digital marketing efforts.
Every level of Hubspot includes access to these key modules:
Content management system

Business blogging platform

SEO tools

Analytics for social media, blog and website

Email marketing platform

Social media engagement tools

Audience list creation and management

Page performance

Prospect identification

Lead tracking
Hubspot allows you to access your data in one central location with easy-to-use reports and tools for monitoring your digital marketing campaign's performance. One integrated "hub" saves substantial amounts of time and money.
Stop Custom Coding
Another benefit of Hubspot is its ability to produce marketing campaigns on the fly. Let's say you're getting ready to launch a new eBook offer on your site. With Hubspot, you can easily create a landing page, call-to-action button, thank you page, and drip emails that are associated with that eBook offer without a programmer. No custom coding from your developer is required. It's truly that simple.
Metrics
You can track the performance of your landing pages and calls-to-action to see what formats work best with your visitors. The example below shows two landing pages that have been created for a site. The data provided includes the number of views the page has had over a period of time as well as the number of submissions through the page and the corresponding conversion rate of the landing page.
Before Paladin was a Hubspot user it was very difficult to quantify penetration rates or number of leads generated via social media efforts. We were able to track number of clicks to a site, shares, and retweets, but we had no quantifiable way to track the number of actual leads being generated by our marketing efforts.
With Hubspot you can easily measure social media efforts through a series of reports they provide on the platform. As an example, the information below shows the number of visits to a website from social media posts and the number of Contacts (leads) generated from those visitors. In this example, 243 visitors came to a website and 11 of those visitors submitted data through the website for some sort of offer or contact initiation with the firm. The average website visitor-to-lead conversion rate averages around 2.5% so this report shows us that the social media efforts are an effective source of new leads for the firm.
Download our eBook: Is Your Financial Advisor Website Producing Leads? This free eBook explores tips that can increase the number of leads that are produced by your website.
CRM Platform
Over the last two years, Hubspot has greatly enhanced its CRM platform. It's fully customizable and allows you to track every interaction that a prospect (or client) takes on your website. Many of our clients have transitioned from an existing CRM platform to the Hubspot CRM system due to it's flexibility and because it is fully integrated with the marketing campaigns you are running.
Some key features:
It's simple and easy to operate

Adding new customized fields for your needs is easy

You can add specific notes or actions based on your interactions with your prospects

You can launch calls from the CRM that you can record and store

You can schedule tasks for yourself or your team after contact with a prospect

It is fully integrated with all of your campaigns including landing pages, email marketing, social media profiles, website, etc.

Sales pipeline reporting and "Deals" to easily track your main prospects over time
Google Analytics Integration
Hubspot recently integrated a set of reports that further integrate Google Analytics into the platform. This is also a major time saver because the key data points needed from Google Analytics are now available in one central location.
Summary
If you're serious about growing your digital marketing footprint on the Internet you should explore using a marketing software automation platform like Hubspot.
You can run the platform in house if you have a digital marketing team or you can outsource your inbound marketing efforts to an agency that specializes in working with independent RIAs. Regardless of which option you choose, when deployed properly, it can be an incredibly effective tool to generate new prospects for your firm. In fact, there is a good chance this will be your primary source of new clients in the future.