Many social networks are vying for the attention of consumers and businesses alike. It can be difficult for any digital marketer to know where to focus their efforts and how to utilize each platform best. This article is focused on how social media for financial advisors can help raise engagement rates, specifically on Instagram.


To be more specific, this article will cover:
What makes Instagram for financial advisors different
How to get started on IG
How to create engaging content
Tips for financial advisor marketing success on Instagram


What makes Instagram different?
While many social platforms share similar features, they each have a different format, niche, and overall demographic. Above all else, Instagram is a visual platform, so the quality and content of visual elements, such as photos and videos, need to be top-notch to gain traction.
Since the platform focuses on aesthetics, Instagram posts do not allow for clickable URLs. The only place for a clickable URL is in your IG business account profile. See ours as an example and follow us if you have an account—if not, now might be the time to create one.
This means sharing content looks different on Instagram because there is no ability to "read more" on a blog post or links to download white papers, for example. That means businesses on Instagram must be creative and share engaging content that builds brand awareness rather than focusing solely on clicks to other online assets, such as their website.
How to get started on Instagram
Like many other social media platforms, Instagram offers business profiles. These are different from personal profiles in that they provide advertising, post scheduling, and analytics, to name a few features. Business profiles also allow for a CTA (call to action) button on their profile. This is a great place for financial advisors to link to their website or blog and leave more space in the bio for information about the business.
This is valuable real estate on the page, but since it's limited to 150 characters (including a link), utilizing the available action button is a big space saver. To put that into perspective, the previous sentence is more than 150 characters. That's not much space to describe your financial advisor firm, so crafting a concise bio is paramount.
Creating engaging financial advisor content on Instagram
As with all social media, Instagram success comes from engagement. Without it, the content you're working hard to curate and share won't reach your intended audience. Instagram's algorithms learn from user behaviors and show them the kind of content they interact with most.
That means if no one is commenting, liking, sharing, or otherwise engaging with your content, they eventually won't see it in their feed — even if they still follow your account. Instagram feeds move quickly, and there's no time for every user to see all the content shared from all the accounts they follow.
In short, having followers doesn't guarantee engagement from prospective clients. Only quality content and a solid marketing strategy can do that. Here are some of the key content types most utilized on Instagram.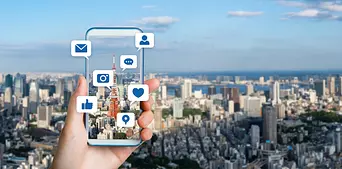 Photos and Videos
As mentioned, Instagram prides itself on being a visual platform that started with photo and video sharing. In fact, they were one of the first platforms to offer filters that users can utilize to make their photos and videos more visually appealing. Because of this, visuals on Instagram tend to have a cleaner, more artistic quality.
These filters are a great way to turn less-than-professional pictures and videos into a more polished final product. Note: when selecting filters, it's recommended for brands to stick to one or two to create a consistent overall look for business profiles. Too many, and the overall theme can be inconsistent and disjointed.
Photos on Instagram are automatically cropped into a square, regardless of the image's dimensions. This is important to remember while shooting or selecting photography on your financial advisor Instagram profile, as some photos don't display well when cropped, depending on size and orientation.
Reels
Similar to what you might find on TikTok, reels are 15-90 second looping videos that are meant to be more entertaining rather than informative. Financial advisors can get creative with reels, saving the deeper content for Instagram videos.
Instagram Stories
These in-app features are meant to be more casual and "fun" in nature, as they are only available to users for 24 hours, then they disappear. Stories can be made quickly and can boost engagement. When you post a story to your financial advisor Instagram profile, your profile photo gets a telltale ring around it and is temporarily moved to the top row of your followers' home screens.
Hashtags
While overused at times, hashtags are Instagram's way of organizing content, making it easy for users to find. Similar to keywords in SEO, hashtags can help your financial advisor brand when used correctly and consistently. While the recommended number of hashtags to use is subjective (Instagram limits posts to 30 hashtags and stories to 10), it's more about quality than quantity.
Some hashtags will be broad, such as #FinancialAdvisor – which at the time of this writing has 987,223 posts. However, #FinancialAdvisorTips has 9,363, and #FinancialAdvisorFun has two posts. The point is that, like keywords, if a hashtag is too broad, it will have a lot of competition, but if it's too specific, no one is looking for it.
Striking the right balance is critical.
Live Stream
Instagram Live is a way to share a live video stream with your followers. Many brands use Live to promote events or host a live Q&A with the brand's creator. For financial advisors, it's recommended to consult your compliance team before utilizing this Instagram feature.
Bonus tips for financial advisor success on Instagram
Keep a content calendar, so you're never unsure what to post next.
Utilize the analytics available to see which content is performing better and share more content like it.
Calculate your engagement rate: The total number of likes is divided by your total follower count, multiplied by 100. This is the percentage of your financial advisor Instagram profile engagement rate.
At the end of the day, having Instagram accounts as part of a social media strategy within a financial advisor marketing plan is commendable. Financial professionals should focus on reaching their target audience by highlighting their products and services in fun new ways. Download this free eBook to add new relationships and ideal clients.
If you lack the time and experience in social media marketing, ask us for help to grow your business. We are a digital marketing firm that knows the financial service industry well.